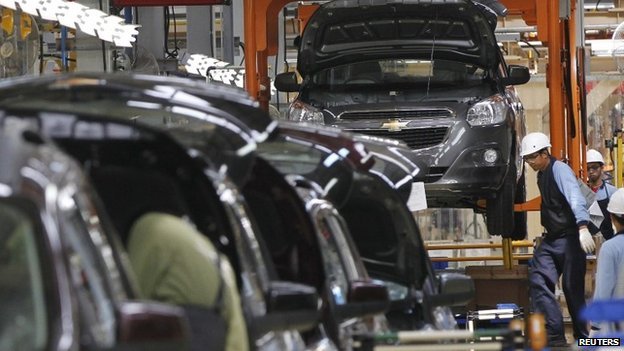 US car giant General Motors (GM) has avoided a potential row with a number of key shareholders by announcing $5bn (£3.3bn) buy back of its own shares.
The move follows a threat from activist investor Harry Wilson to join its board and force it to buy back shares.
Mr Wilson represents four hedge funds, which together own 34.4 million GM shares or about 2.1% of the company.
It means GM will buy its own shares and cancel them, theoretically improving the value of the remaining shares.
GM's shares rose 1.68% in early trading on the US stock market to $37.52.
As a result of the deal agreed over the weekend, Mr Wilson said he would withdraw his hostile candidacy for the Detroit car manufacturer's board of directors.
He was part of a government task force that restructured GM when it came out of bankruptcy protection in 2009.
Mr Wilson has previously accused GM of hording cash to the detriment of shareholders.
Under a deal with the four hedge funds he is representing - Taconic Parties, Appaloosa Parties, HG Vora Parties and Hayman Parties - Mr Wilson will get up to 4% of any profits they make on their GM shares from the buyback. deal.
He had originally sought an $8bn buyback from GM.
At the end of last year GM had $25.2bn in cash. It now says it will now maintain a cash balance of $20bn and aim to keep its investment-grade status.
Investigation
The share buyback will begin immediately and take until the end of 2016 to complete, GM said.
In an interview the Associated Press last month, Mr Wilson said shareholders were frustrated with GM because it was an underperforming company with substantial cash that needed help reaching its potential.
"They are not a very good steward of capital," he added.
The company, he said, had not improved its profit margins , and was behind other car makers in working with parts supply companies to develop more models off fewer car and truck architectures.
GM only restored its quarterly dividend in January 2014 for the first time in six years.
It is currently facing a US Justice Department investigation for failing to disclose an ignition switch problem in its small cars to government safety regulators.