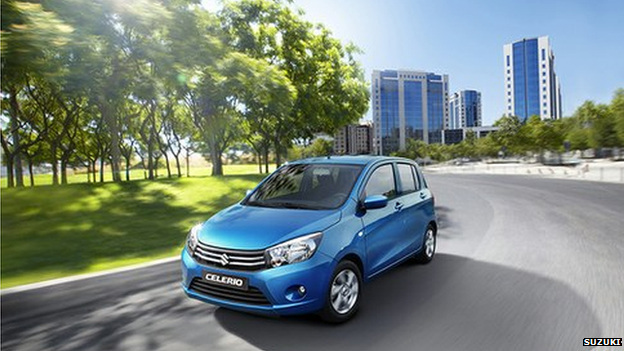 Suzuki has extended a recall of its new Celerio car to more countries after UK tests uncovered brake problems.
Sales in the UK, Ireland, Australia and New Zealand have been suspended and owners told not to drive the cars.
It followed reports of brake failure during testing of the £8,000 car by motoring magazines What Car? and Autocar.
The small city car went on sale in the UK over the weekend, and it is thought that about 100 are on the road.
"With immediate effect, Suzuki is recalling its UK Celerio models that went on official sale to the public on February 1st," the carmaker said in a statement:
"This safety recall relates to retraction of the brake pedal and affects right hand drive vehicles for UK, Ireland, Australia and New Zealand. It does not affect left hand drive vehicles or other right hand drive markets."
It is thought that about 40 Celerio cars are affected in Ireland, where they also went on sale at the weekend. The company's UK office was unsure at this stage how many cars will be recalled in Australia and New Zealand, where they have been on sale since last year.
Suzuki said that Celerio owners would be supplied with a temporary Suzuki replacement car.
'Full-force'
What Car? said that two Celerios suffered total brake failure during 80mph deceleration tests at a private facility, the Millbrook Proving Ground, in Bedford.
The magazine said: "During the first full-force braking test all stopping power was immediately lost upon application of the brakes.
"The brake pedal became stuck in the fully depressed position and had no effect on the Suzuki's speed. No braking effort could be exerted by forcing the pedal up and reapplying it."
The combined use of the handbrake and moving down through the gears brought the car to a safe stop.
The cars affected were made at Suzuki's Rayang plant, in Thailand. Celerios are also produced at the Maruti Suzuki plant in India, but cars made here are not affected by the recall.